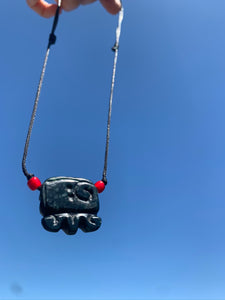 Made upon order in Guatemaya by Don Oscar, our friend and amazingly talented stone carver. Don Oscar is a a Mayan spiritual guide who speaks the language of Stones and Stars, while living and working according the Mayan sacred Calender in. He only uses the most precious and rare form of Jade, Jadeite, harder and denser than common Jade, and possesses a richer, more brilliant range of colors. 
These unique pieces will be hand carved especially for you. You will enter your (or whoever it is for) full date of birth and he will tune in and choose a stone and carve it with the Nawal, the energy/guardian, of your birth. Together with your stone you will receive a little card with some information about your Mayan energy/sign. 
After order, please send this info to emily@moonjuicermarket.com
From order until you receive your package is about 2 weeks. If it's more urgent than that, send an email and let us know.
(sometimes some additional "information" or message will be added for you as well, as they comes through from the stones  as he works with them).