CRIOLLO CEREMONIAL GRADE CACAO HOME TO YOU
In the times of quarantine, let your Spirit roam. And drink Cacao.
March 23rd 2020: Hope to see you out in the markets soon soon again! meanwhile, please practice to take the best good care of your selves, of each other, of our dear mama Earth during these special times..
Stay healthy, warm, kind and calm. As within as without. Extend your compassion and care in new ways. Keep your dreams inspired and your fire burning. Take this given opportunity to journey within, to re-discover and re-member. Re-value and re-connect. Welcome your shifting tides and shredding of old skin. Breathe in new freshness and deeper gratitude, new love and appreciation. Let innocence return to your heart. Be a curious kid. Enjoy the process of re-connecting to your beautiful beating heart and wilderness soul. To your wiser higher self. Take a bath in your truest essence and enjoy it's unique vibration. Allow space for your new idea seeds and put them into the soil. Water and sing to them. Or maybe just throw them up into a rainbow and watch them sprout in the air! Remember to dance, drum, laugh, cry, and create (just for creativity sake)! We are All One and You are All of It. Thanks for being alive together right here right now, on this planet, rushing through space together. Pretty amazing right? and on top of that, a new world a'weavin and we get to drink Cacao while doing it.
Matyox to all the directions and to Cacao. Matyox to the Maya people who protected this sacred plant all the way up to this day. Giving us the opportunity to experience it's wonderful world of warm magic, sweetness and yummyness. Pure heart plant magic synergy indeed. To the heart of the Sky, To the heart of the Earth. Matyox.
Your purchase helps! A portion of all profit goes directly to help in places needing extra support during these times (more specific info of those places will be pubilshed here shortly). Thank you!
Strong  winds, clean water, green earth, warm fire... With cacao star kisses and so much love blessings to you all. See you soon!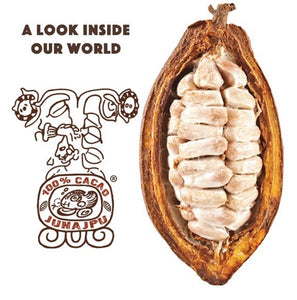 Whenever the balance between humans and nature becomes threatened, the Cacao leaves the rainforest to open people's hearts and return the planet to harmony